"Same Time, Same Station" Interviewed Dick Bertel
and engineer/webmaster Bob Scherago about
WTIC's "The Golden Age of Radio" in December, 2010.


Larry and John Gassman's
"Same Time, Same Station"
---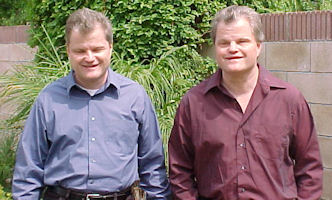 Identical twin brothers, John and Larry Gassman are used to surprising skeptics. Blind since birth, they have been exceeding the expectations of doubting observers all their lives.

The Gassman' s radio careers were launched in 1973, at a small radio station at Rio Hondo College in Whittier. By 1980, they were the sole hosts, producers and engineers of the KPCC-FM radio program, "Same Time, Same Station". The show was devoted to airing vintage radio programs which featured dramas, comedies, variety programs, news broadcasts and documentaries from the 1930's, '40's, and '50's. These original productions were aired in their entirety, uncut and uninterrupted. The show lasted until March of 2000. They then moved their program to KCSN in Northridge, California. In 2002 they both became to busy to continue the broadcast. Rather then to see the show die, Jerry Haendiges offered to "guest" host the show temporarily. After an absence of over 8 years, the Gassman's are happy to now resume "Same Time, Same Station" on my Olde Tyme Radio Network (and I'm really happy to have them back)...
Listen to the interview