Vincent Price is best remembered for his roles in movies, specifically the Roger Corman adaptations from Edger Allan Poe. Although these gave him a wide variety of characters to play and were striking enough, they type cast him for the remainder of his career. Price did not start out with the intentions of becoming an actor but rather an art historian. He obtained degrees in Art History and English at Yale and then taught school for a year. He felt that he needed to further his education though as the students seemed to know more than he did! Price returned to college to take his Masters in Fine Arts at the Courtauld Institute in London, he also studied briefly in Vienna.

It was while in London In 1934 that the theatre bug hit him, theatre tickets were relatively cheap and Price took advantage of this. He first appeared as an actor at the Gate Theatre, at the time a private experimental theater, as the judge and a policeman in the play "Chicago'. He also appeared here as Albert in 'Victoria Regina', the role that was to bring him to Broadway and the public's attention. The show's producer Gilbert Miller, decided to take the play to New York and open with Hellen Hayes in the leading role. Miller also decided to take Vincent Price to New York to play opposite her. The play opened on the 26th December 1935 and ran for three years.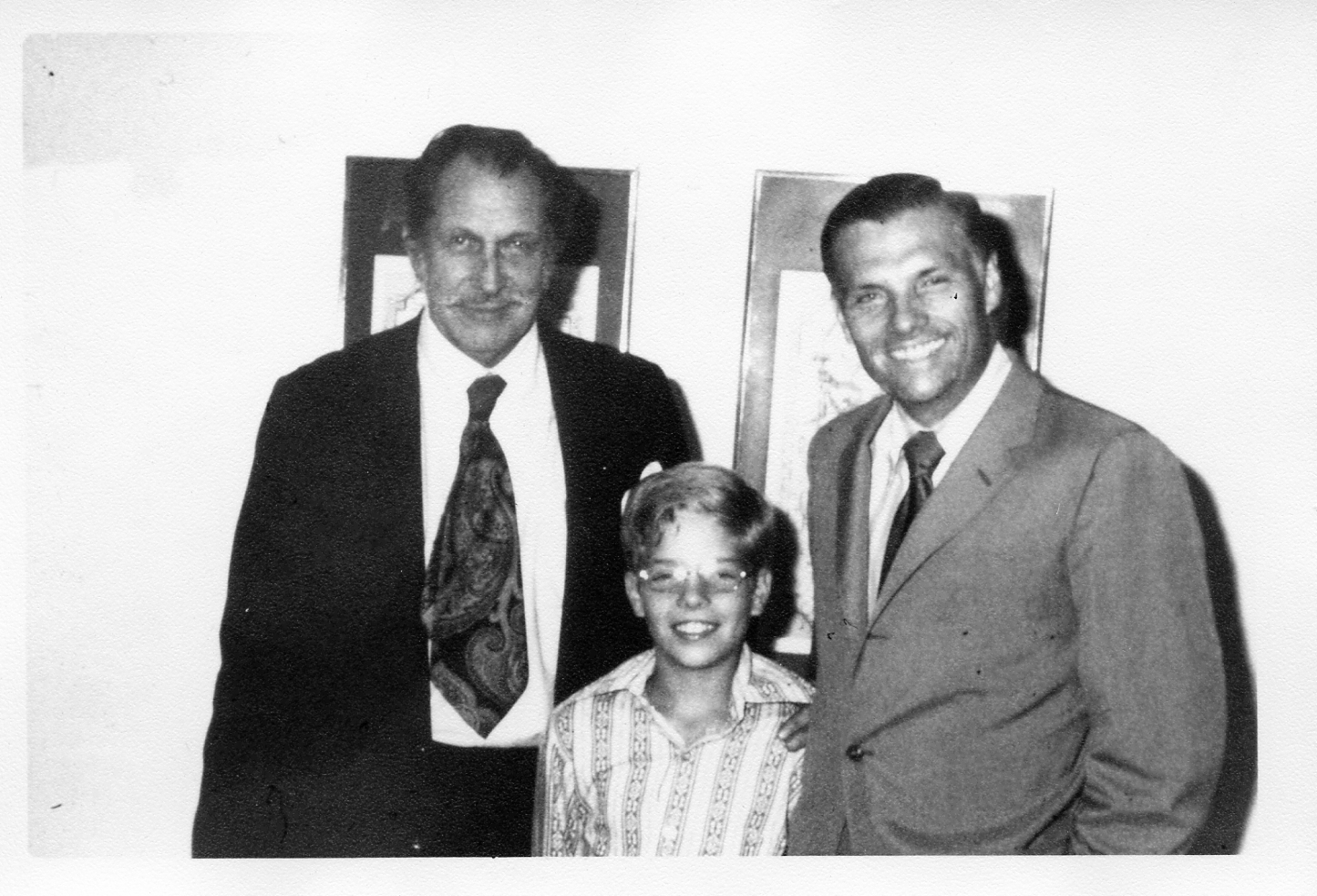 Vincent Price with Dick Bertel and 11 year old son, Jim, following the taping of "The Golden Age of Radio", November, 1972.

Jim is now a broadcaster with the Voice of America. The photograph was taken by Ed Corcoran.


Price's love of art never left him and he used his education to good advantage. He was responsible, in 1951, of founding the Vincent Price Gallery, with his then wife Mary Grant Price on the campus of East Los Angeles Collage. Price had been invited to lecture on the ''Aesthetic Responsibilities of the Citizen,'' he arrived to find he was, ''speaking in a Quonset hut on a mud flat.''

Price's love of American Indian Art led to another little known side of him, his work for Native Americans, he worked for 15 years with the Department of the Interior and was quoted as saying in an interview, "I have an enormous respect for the American Indian. I think we shut them off, at a period when they might have become the most creative people on the face of the earth. But we killed them off."

On this show we learn that with all his successes on Broadway, in films and television, Price's first love was radio.

Vincent Price was born in 1911 in St Louis, Missouri; he died in 1993.